A 6-day guide to Costa Rica
Hi, friends! I'm extremely excited to share my quick guide to Costa Rica with you! Ryan and I were very fortunate that his company needed him down in Costa Rica for an entire month. Knowing that we want to see as many countries imaginable together, we instantly jumped on the opportunity to do some exploring in our first Central American country!
Our trip was a 5-night, 6-day trip [two of those days being reserved just for travel] and we arrived in Costa Rica the day before 4th of July. We then traveled around the northern part of the country ranging everywhere from the volcanic peaks all the way to the coastal beaches. We did a lot of driving in a short period but wouldn't have had it any other way! This was by-far our shortest international trip that we've taken so we were determined to pack in as much as we could! Hope you enjoy!
Fun Facts About Costa Rica
Costa Rica has over 120 Volcanoes and 7 of them are still active to this day [Arenal Volcano being the most popular]
Costa Rica is divided into seven provinces: San Jose, Alajuela, Heredia, Cartago, Guanacaste, Puntarenas and Limon
Coffee, sugarcane and chocolate are some of the three most popular crops grown in Costa Rica
"Pura Vida" is THE saying of Costa Rica, meaning "simple life" or "pure life". It's not just a saying for them, it's their way of life
Day 1 | Travel Day - Arrival to San Jose, Costa Rica
Ryan and I flew from Raleigh, North Carolina (RDU) to San Jose, Costa Rica (SJO) with just one stop in Houston, Texas. It was very minimal travel which made it even more enjoyable. Three hours on the first flight, an hour layover, and then another three on the last leg. We landed in Costa Rica just before 9pm local time. I couldn't believe how easy and quick it was to jump on down to Central America! [if we could change one thing, give yourself more time on that layover, sprinting from gate to gate is never fun!]
When we travel, we love making the actual travel days part of the fun and adventure. For us, that means taking advantage of airport lounges [post coming soon - tips for airport "lounging" the right way!], lots of yummy libations, good food and just going with the flow! We've learned that the best way to ensure a fun travel experience is by really planning things out and doing your research ahead of time! Nowww, as much as one person can plan things out, something seems to always be thrown off when you are dealing with airplane schedules. Having plenty of down time and a backup plan helps tremendously!
Since Ryan travels a ton for work, he was upgraded to first class for both legs of our trip and left little ol' me back in business class [just kidding]. Luckily, I have a sweetie of a husband and he declined the upgrades from the airline so we could stick together on both flights [but definitely asking first if I could also have an upgrade to first class! I mean, do you blame us? Lol]. We had the most fun on these two flights than we've ever had before.
For some reason, all the stars aligned and we had the most incredible luck! We ordered two glasses of red wine each on the first flight and after striking up a conversation with a sweet flight attendant, she gave us the drinks completely complimentary. It also probably helped that the payment machine wasn't functioning properly. Even though it was partially due to technology error, it was so sweet of her and made us feel really VIP lol. THEN, when we were already on cloud nine, on our second flight the entire flight crew SOMEhow found out we had just married three months prior. They were so elated for us and it was the warmest feeling ever! We've never had such special treatment on flights before so we were feeling like total rockstars! They treated us to dinner of our choice & started us off with a half bottle of wine. [you'll learn quick that we are total wine-Os] Then followed by another half bottle later on during the service.

Not only did we feel super spoiled by the food and beverages, but one of the flight attendants made such a fun and sweet gesture. He picked up a champagne flute, clinked it until he got the entire cabin's attention and announced that we were newlyweds. It was such a surreal moment having everyone congratulate us and left smiles plastered to our faces the entire time. AND, to top it off, one of the first-class flight attendants surprised us with a full-sized bottle of wine for us to take with us to our destination. I honestly cannot say enough amazing things about this airline but more specifically this flight crew! What they probably thought as just a few minor treats for a guest, truly meant so much more and will leave a lasting impression on us!

Once landing in San Jose, we made our way through customs and through the airport to the rental car area [which was just next to baggage claim, very easy to find]. We were kindly greeted by a National Car Rental representative and escorted right to our vehicle. We were given a quick tutorial on the vehicle and the GPS. DEFINITLEY spring for an automatic vehicle, 4x4, and GPS…you will need ALL three! You'll also get an early 2000's flashback too when you see the old school Garmin GPS, too funny!
Now we were officially off and on our own to explore a brand-new country! We made our way to our airport hotel, Courtyard San Jose Airport Alajuela. It was beautiful and clean and had every accommodation one would need. We settled into our suite and once again, was blown away with the attention to detail by our welcome gift of adult beverages waiting on ice. Way to go Courtyard Marriott!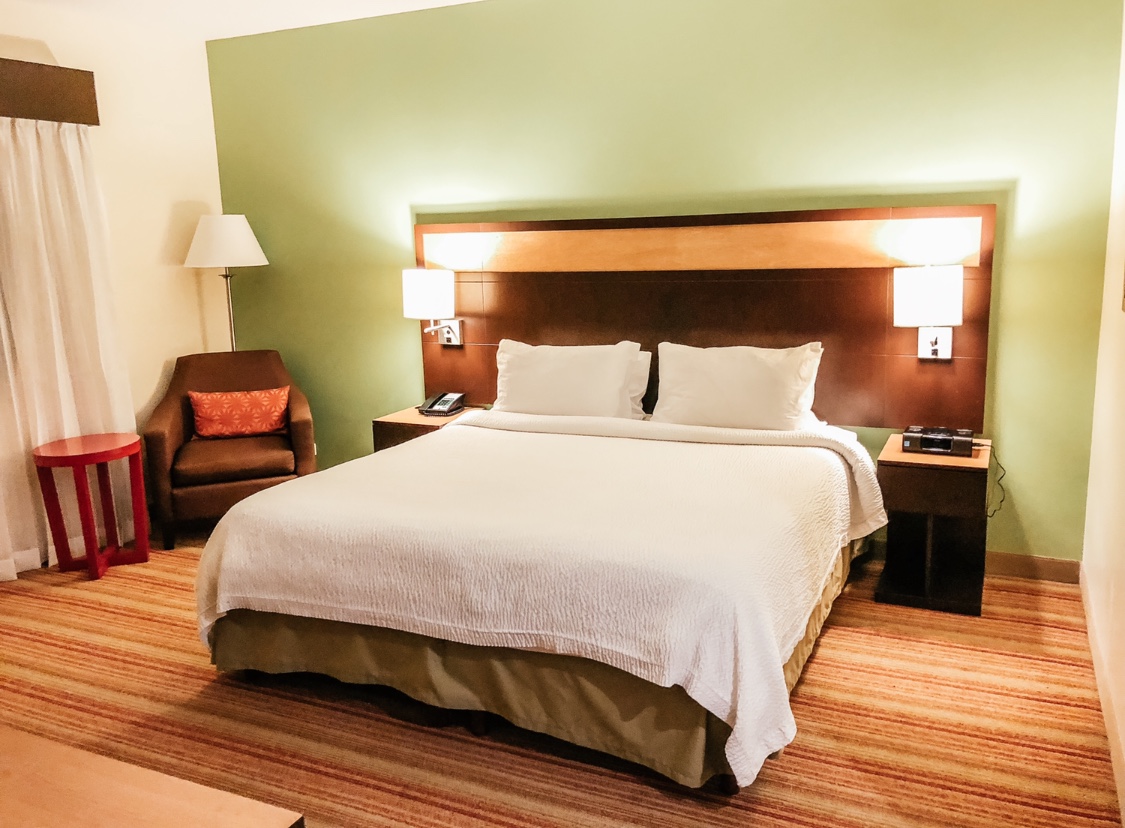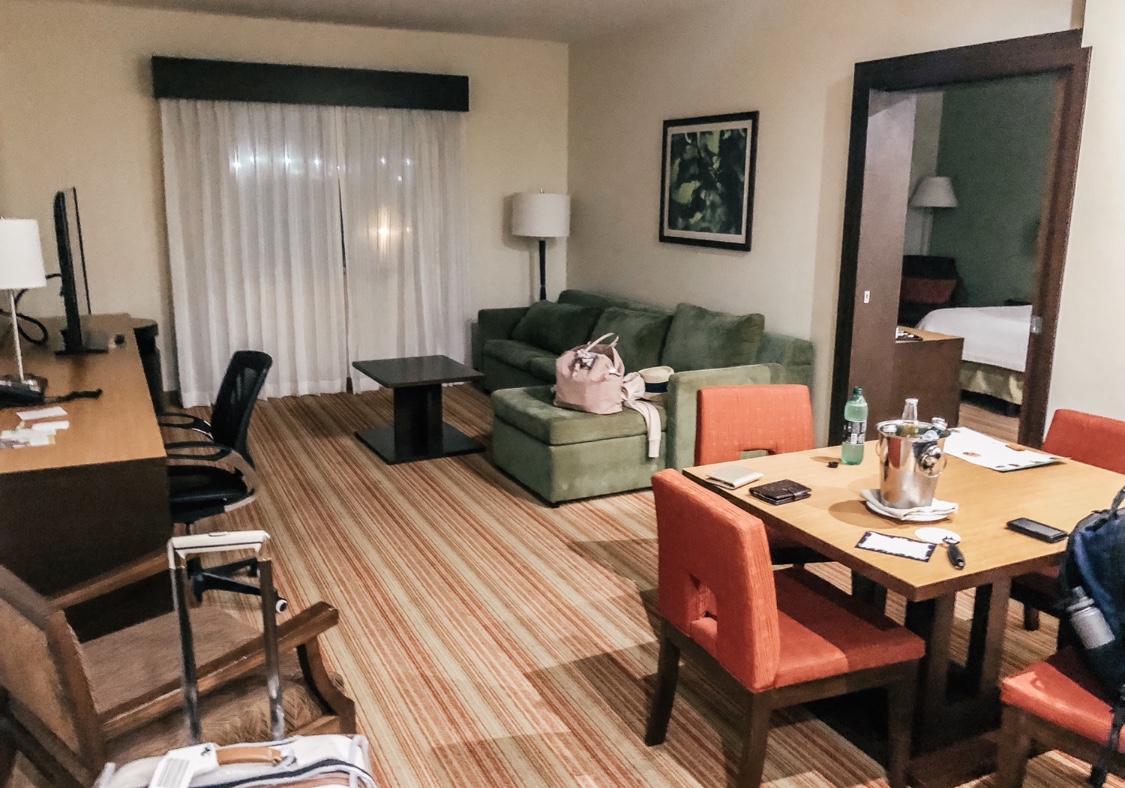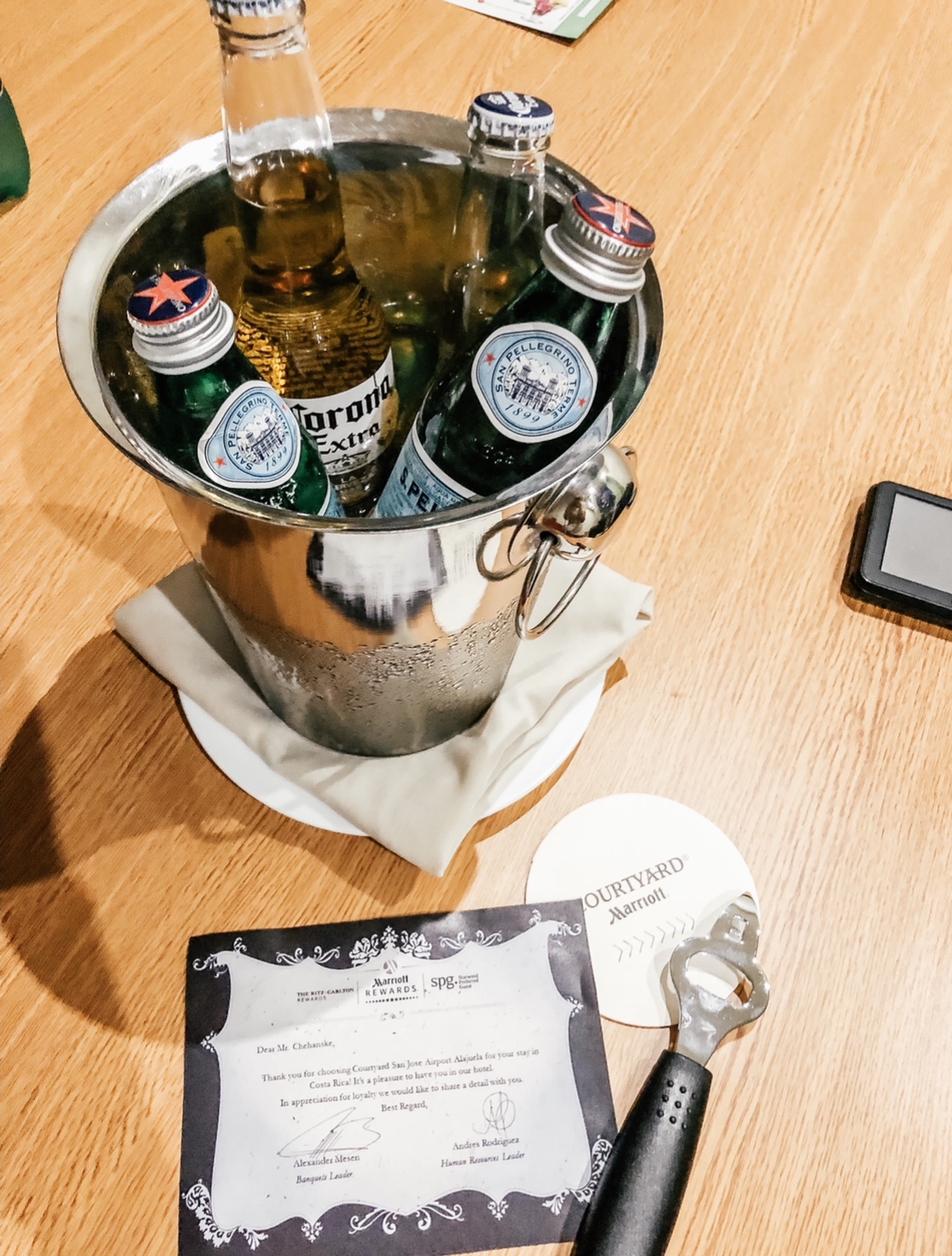 Our energy & excitement quickly drained from traveling and we tucked ourselves in for an early night's sleep. Thank you so much Marriott for taking care of us, we had a wonderful stay!
Day 2 | Waterfalls and Hot Springs
Up, up, up! Waking up at 4:30am sounds like an absolute nightmare to me [nottt a fan of waking up, HUGE fan of sleeping lol] but when your thoughts are consumed with exploring, it is very easy to do. We packed up, dressed in our athletic wear and grabbed a quick bite to eat at the extensive breakfast spread downstairs. We did plan to make sure that our electronics were protected from any rain that could potential catch us by surprise.
We drove 3 hours from the airport hotel up to our first stop of the day, the La Fortuna Waterfall. We were one of the firsts to arrive which was perfect. We paid our entrance fees and started our hike down. It was over 450 steps down. Even though you are walking down stairs, it is still physically demanding. If you aren't the most in shape or have any sort of walking issues, give yourself some time to go down slowly. Once at the bottom we got to take fun pictures together without anyone in our pictures. We had about 20 minutes before droves of people started making their way down the steps. Just for reference, we arrived at probably 7:15am. We made our way back to the car up the 450 steps and ohhh my god, the struggle.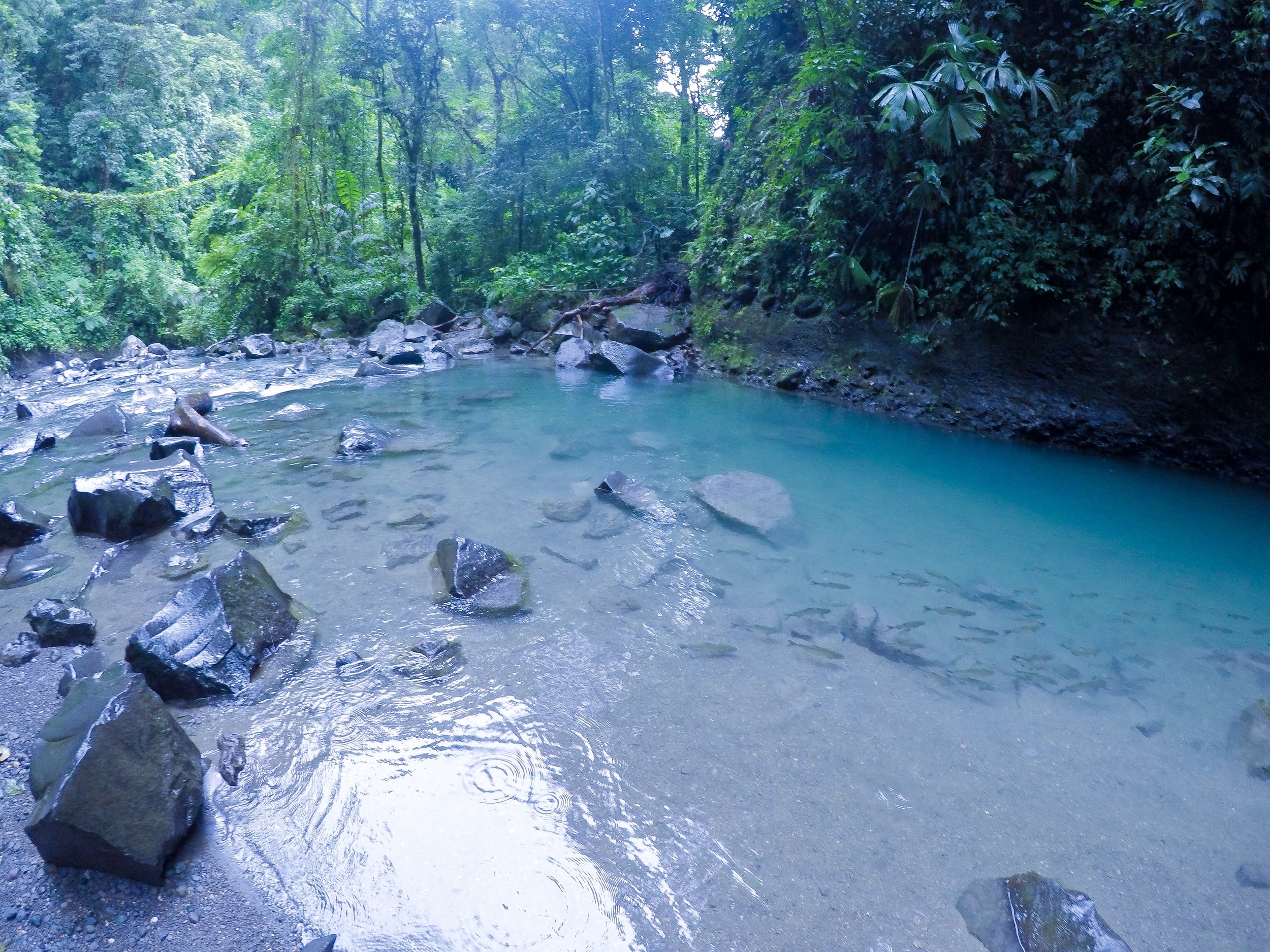 Our next stop was the Fusion Grill Restaurant La Fortuna. We chose this spot based on the potential incredible view. The only problem with this is that the fog and the visibility of the volcano is completely unpredictable. When we got there, we were super bummed to not be able to see anything lol oh well! Can't win them all! So, we had a quick breakfast, nothing fancy and made our way to the Tabacon Hot Springs Resort. We had originally hoped to stop and hike Arenal Volcano a bit but made a last-minute decision to not due to the foggy conditions. We didn't want to spend our time hiking if we weren't even going to be able to see anything.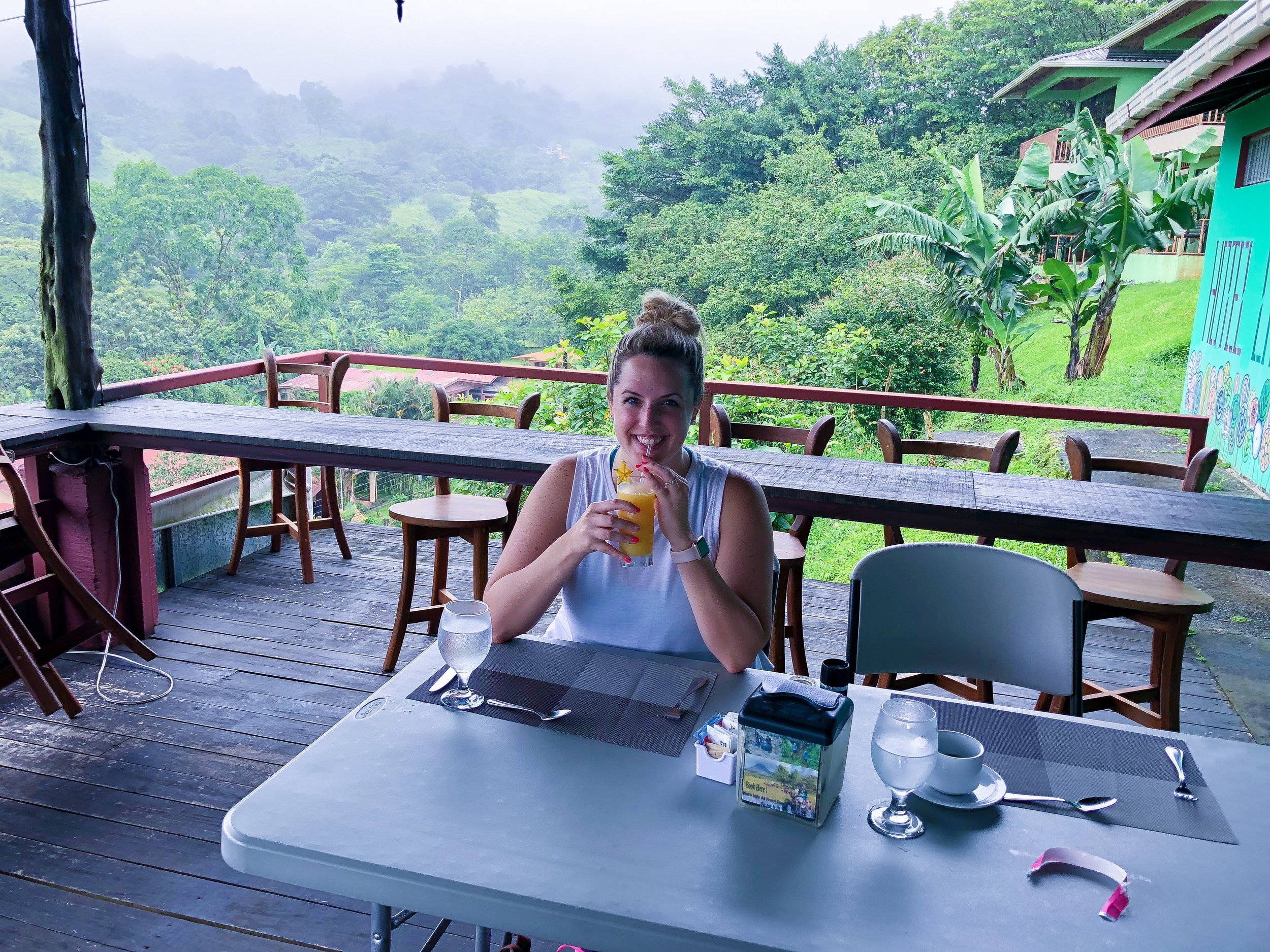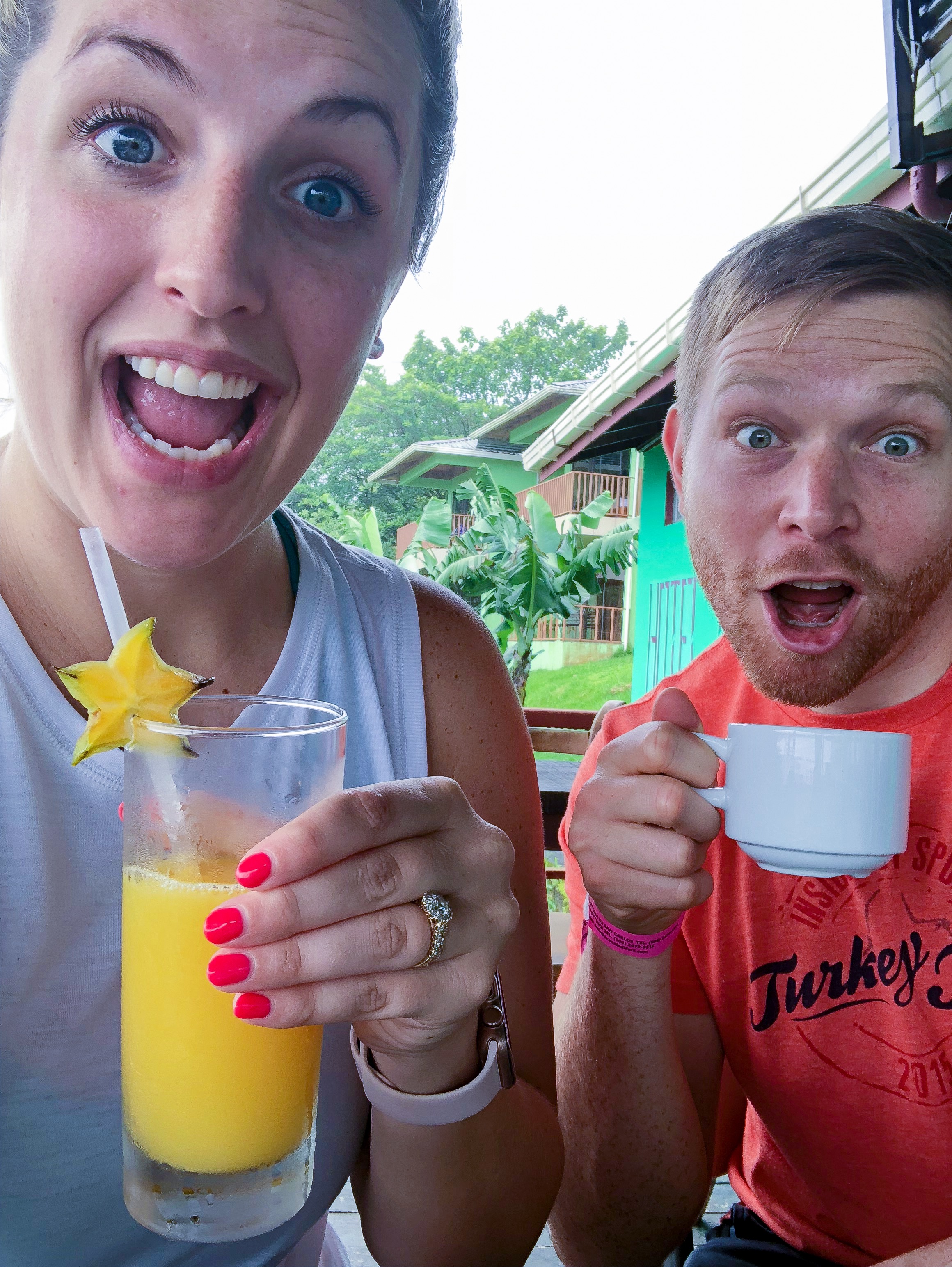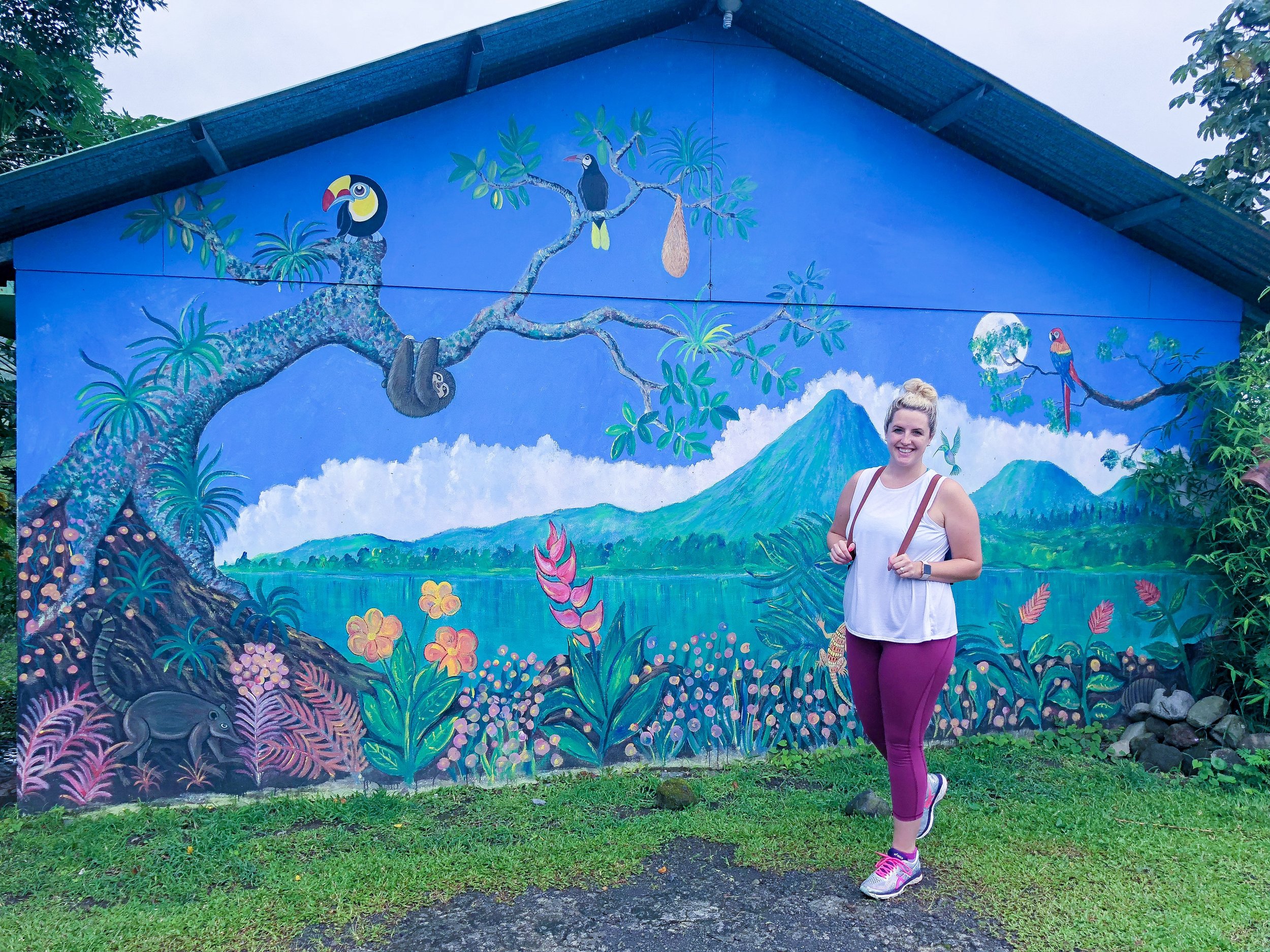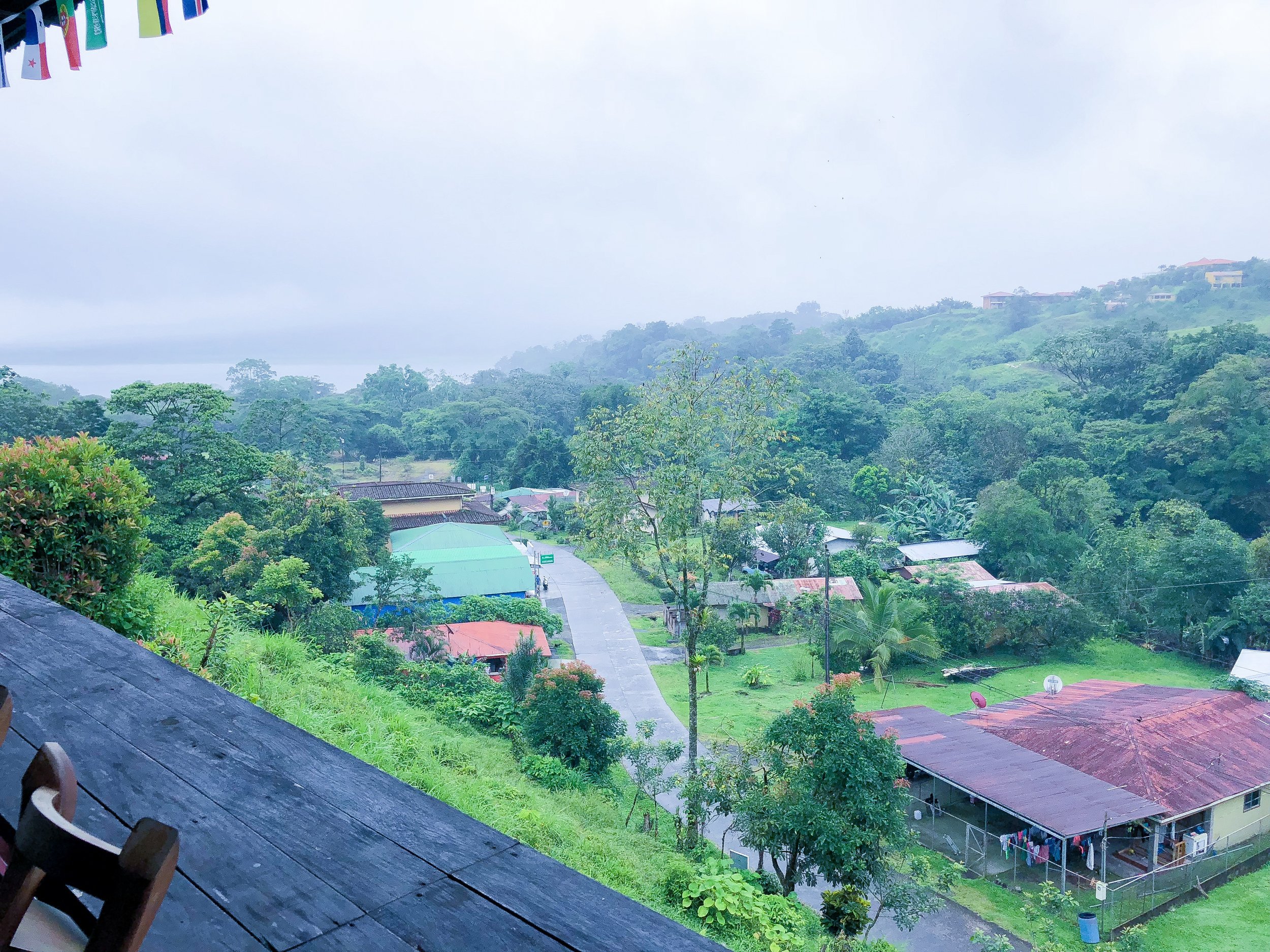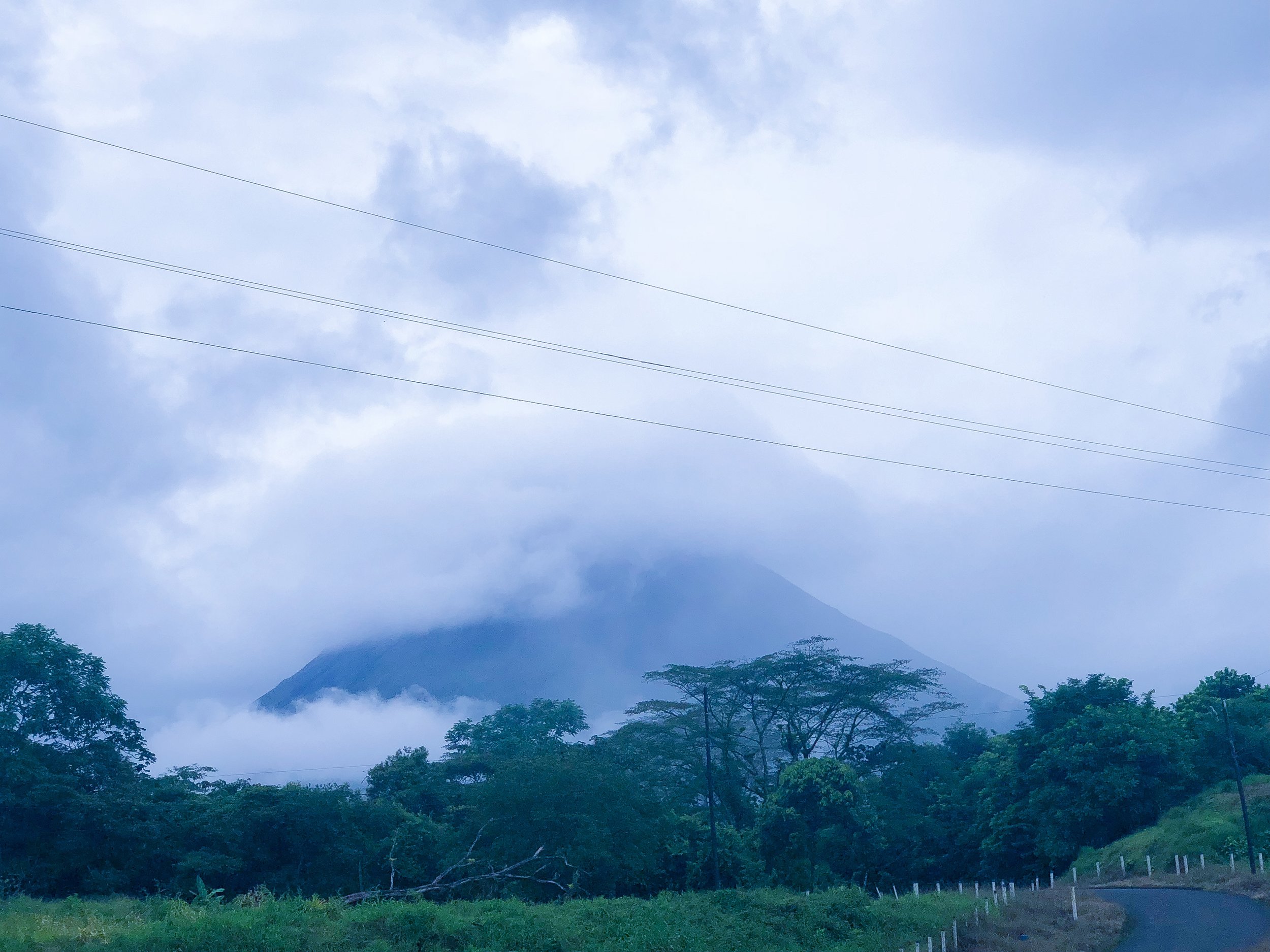 We arrived to the Tabacon Hot Springs Resort & Spa, checked in and changed into our swimmies in the lockers provided. It was very convenient. In addition to the lockers, we were also provided with towels as well. Being in complete awe, we explored through the beautifully landscaped paths and around every corner was a new private spot to enjoy. The entire resort were little water reservoirs all connected that twisted and turned through the tropical vegetation and gardens. We enjoyed about an hour before lunch was served. We made our way up to the restaurant at the top and sat down for a three-course meal on their outside covered deck. And Just as we were enjoying lunch, a true Costa Rican rain shower washed through, perfectttt timing!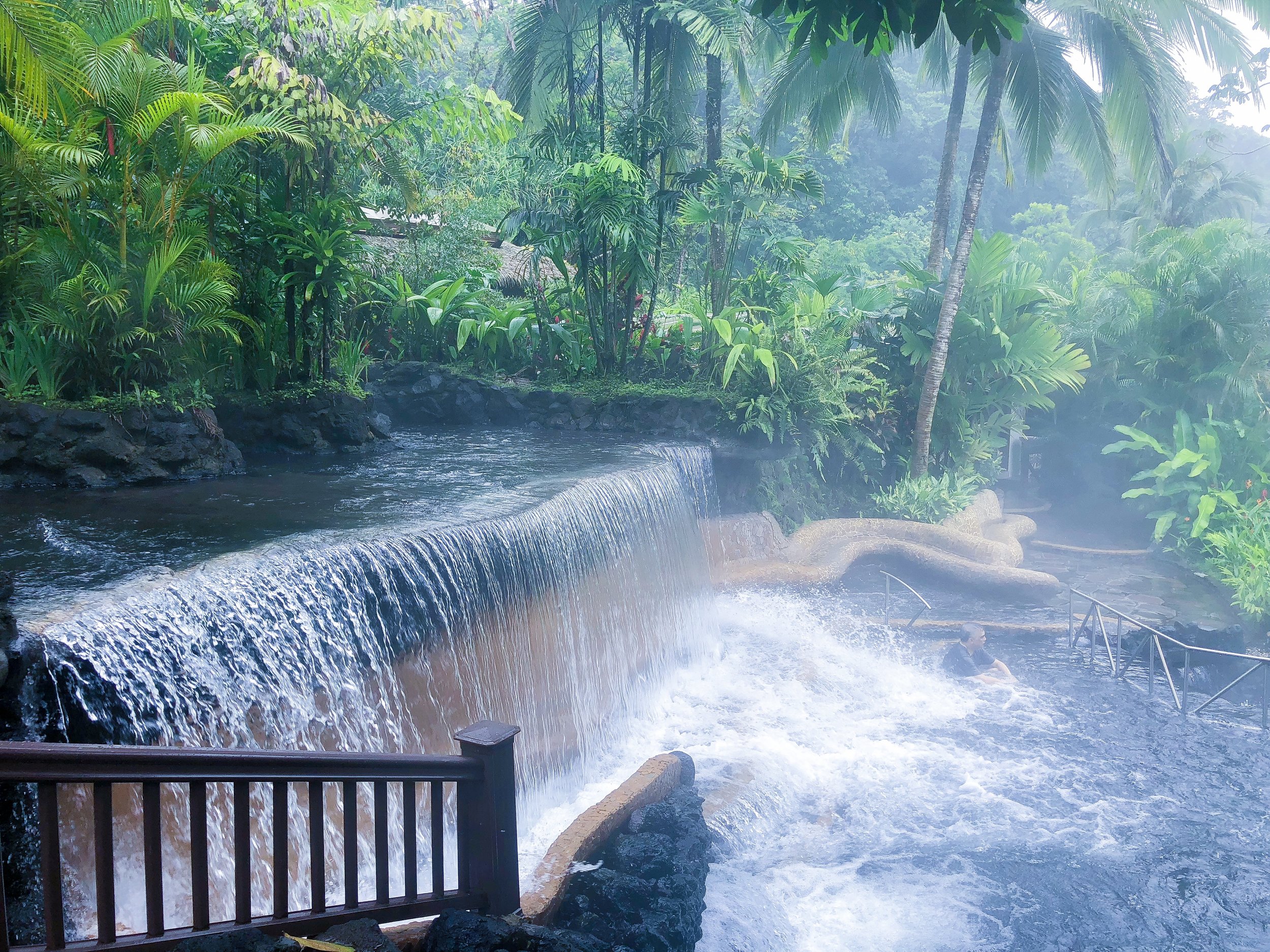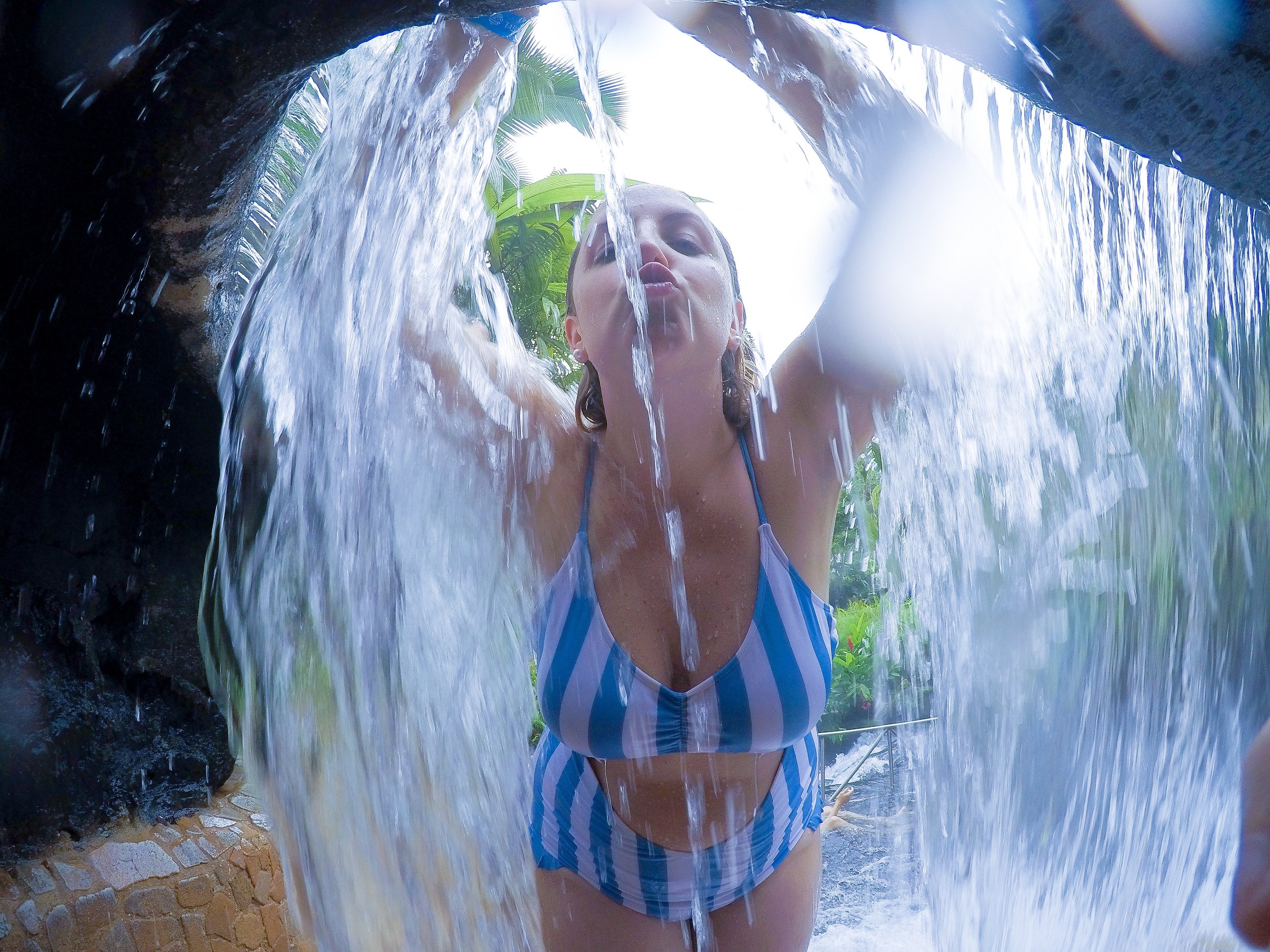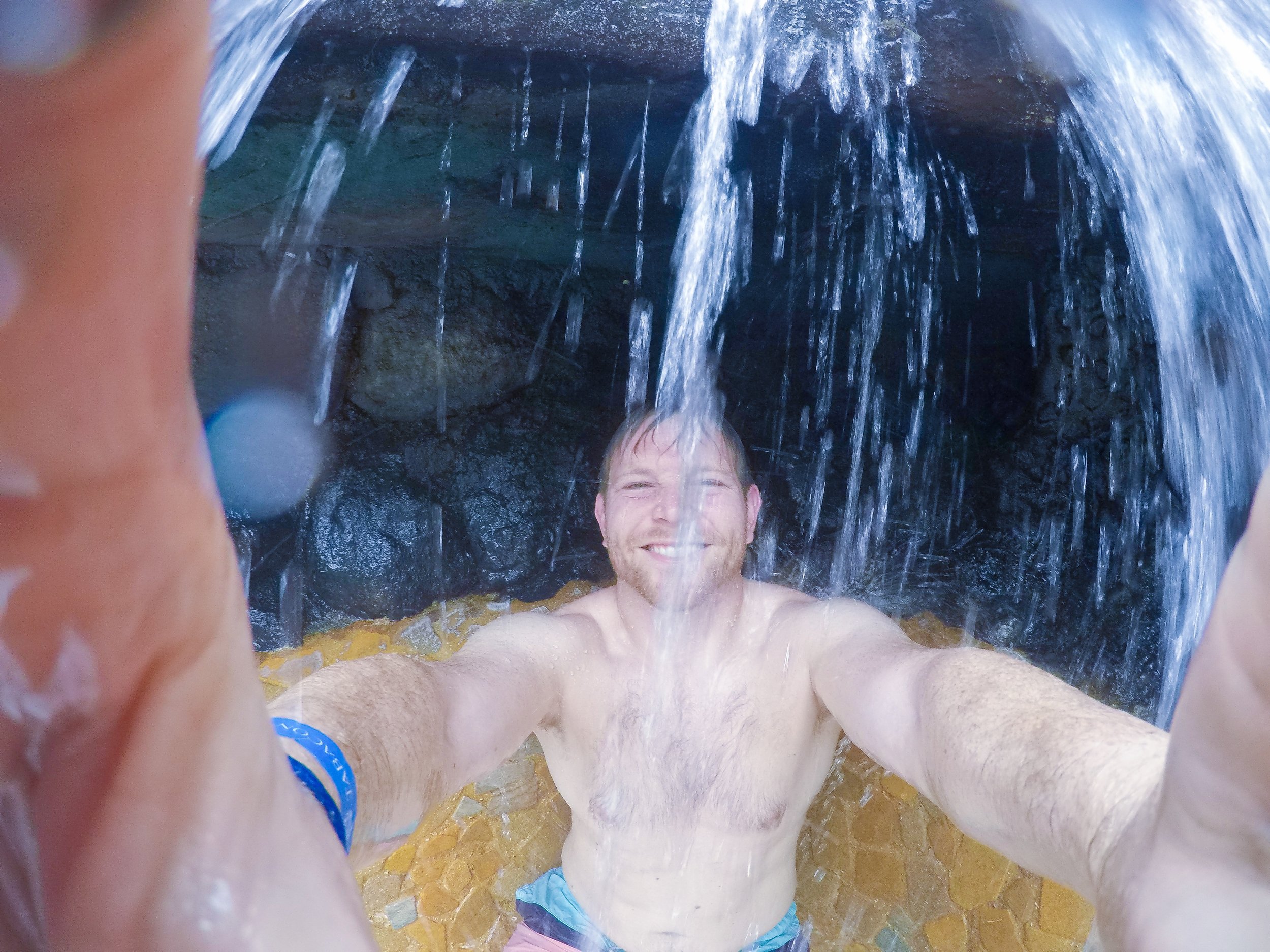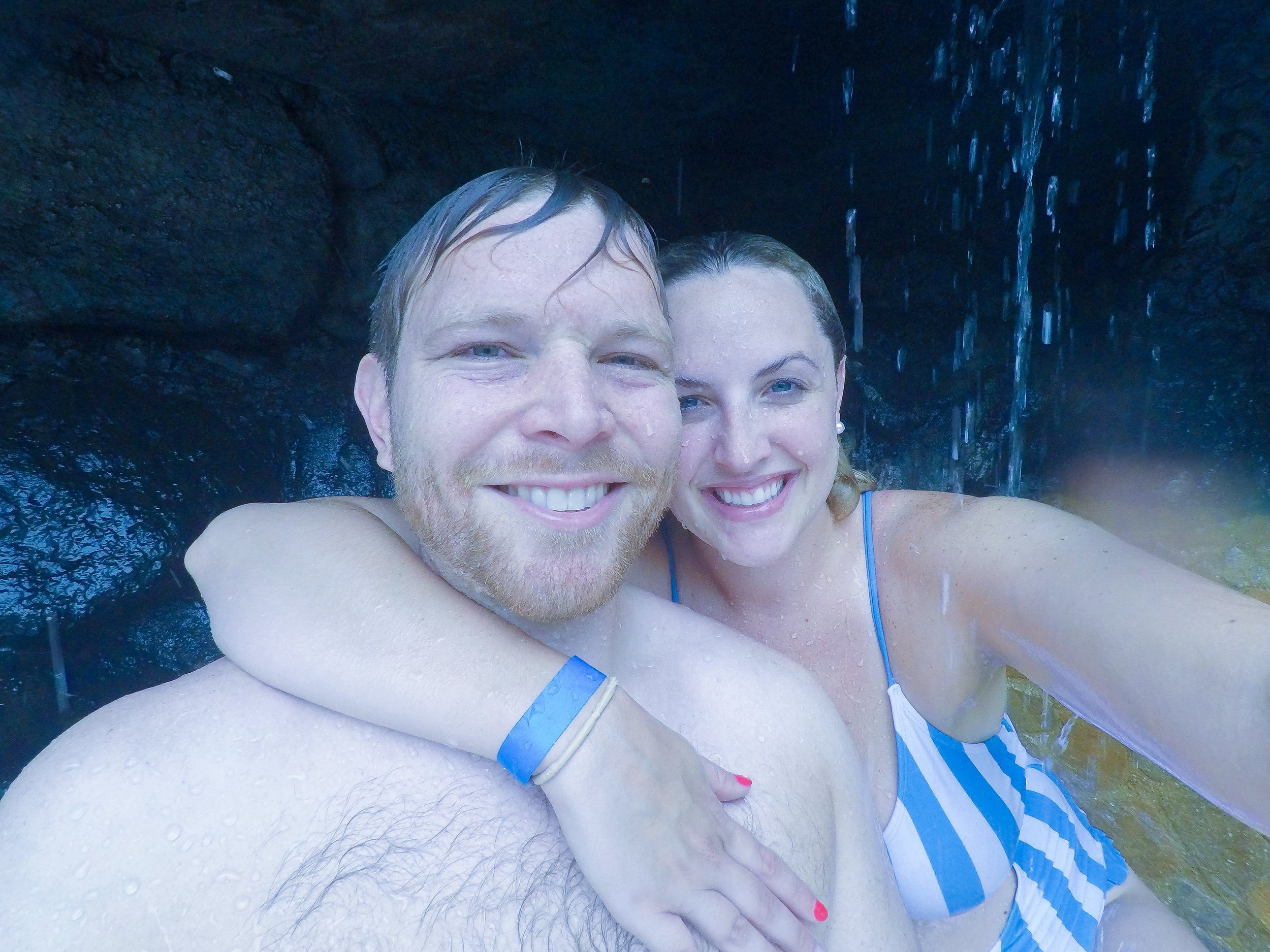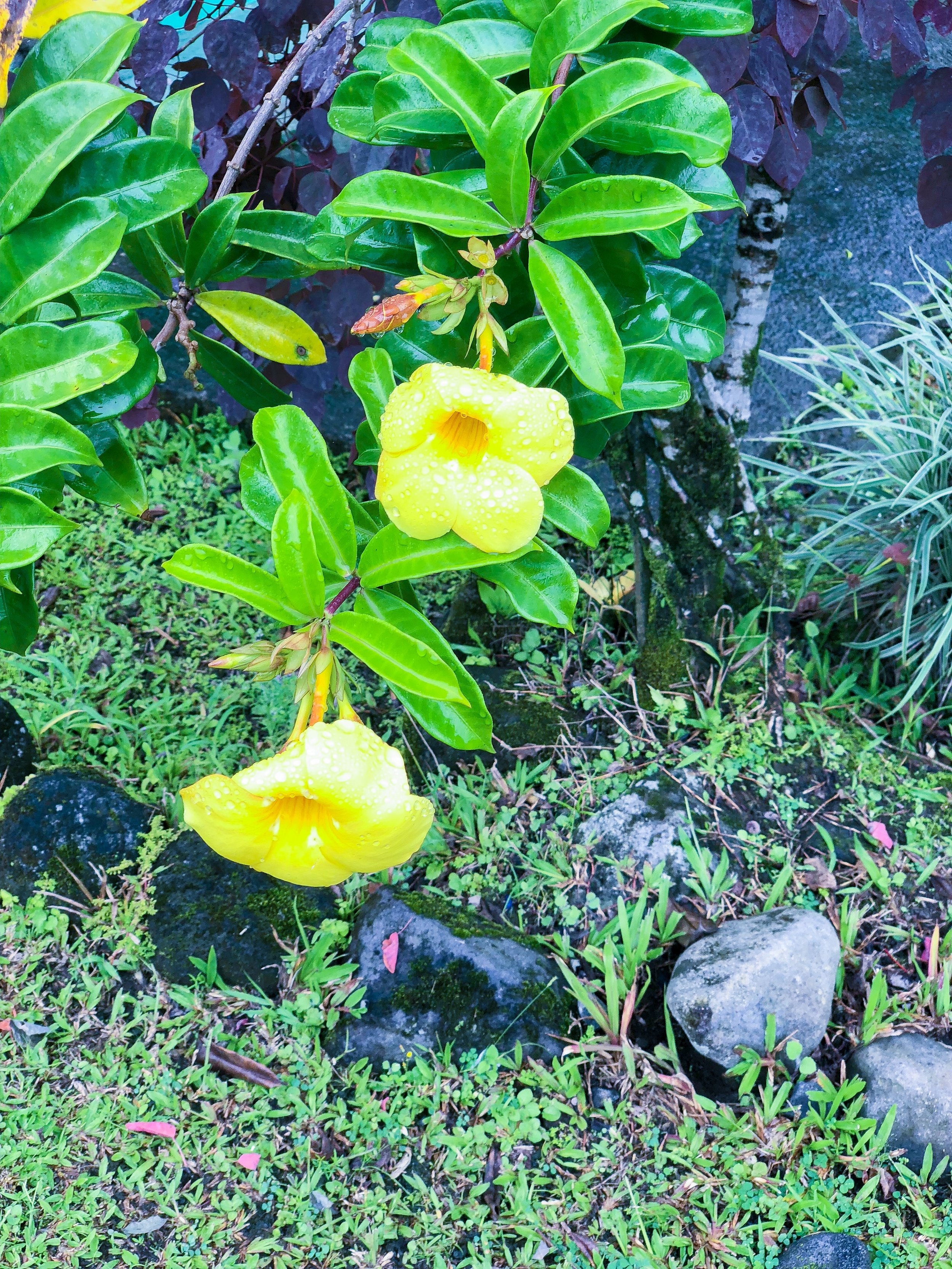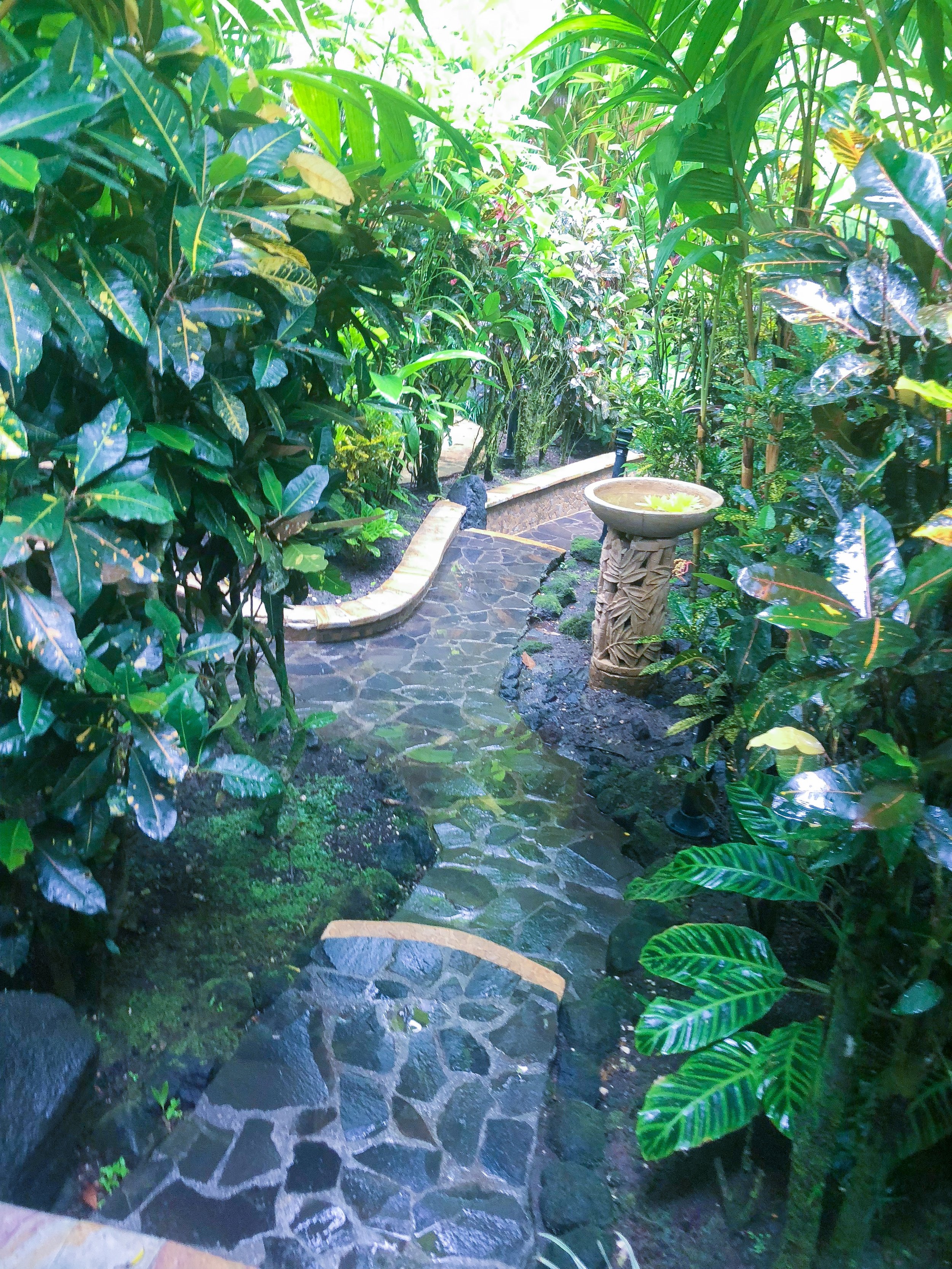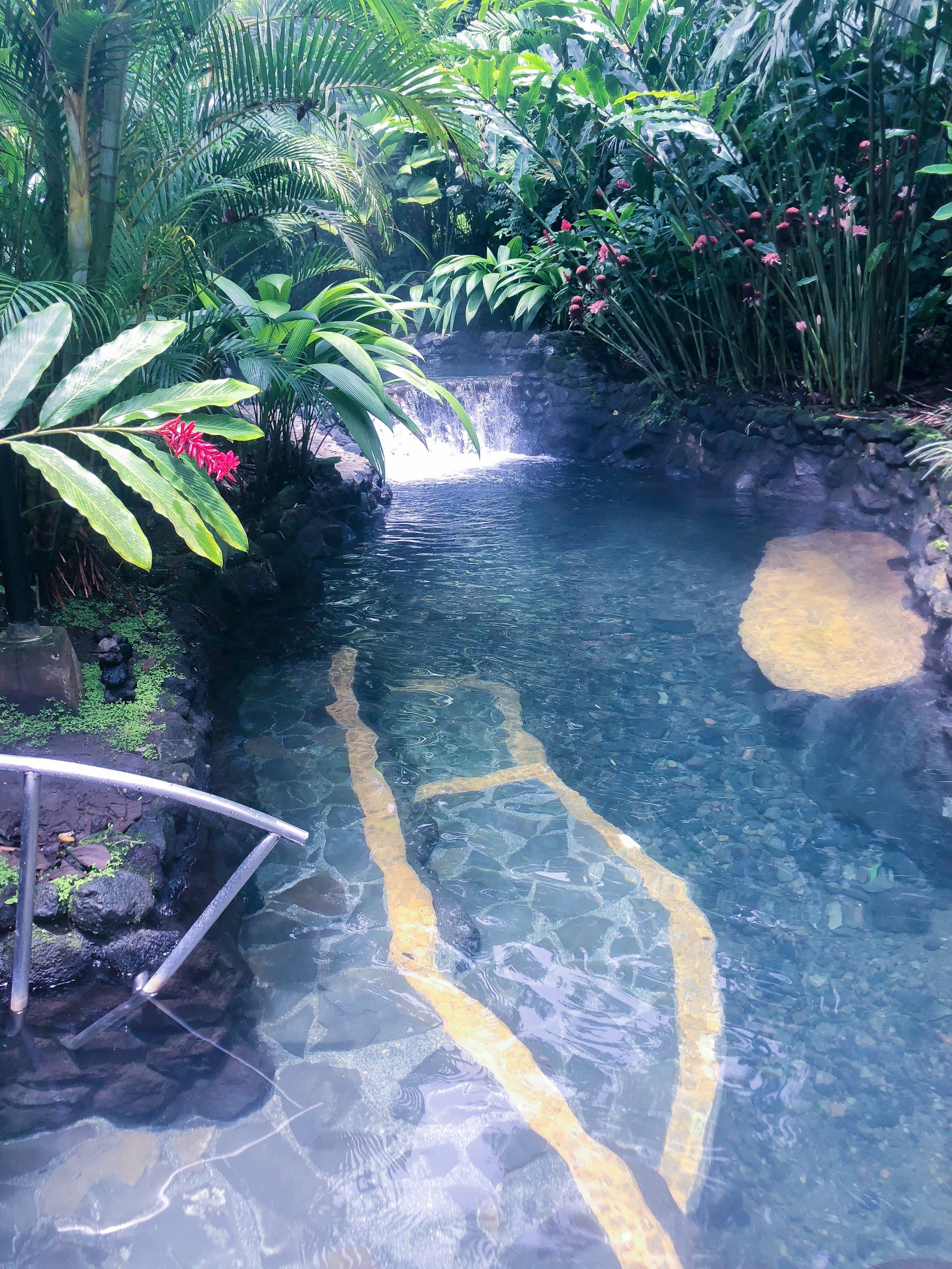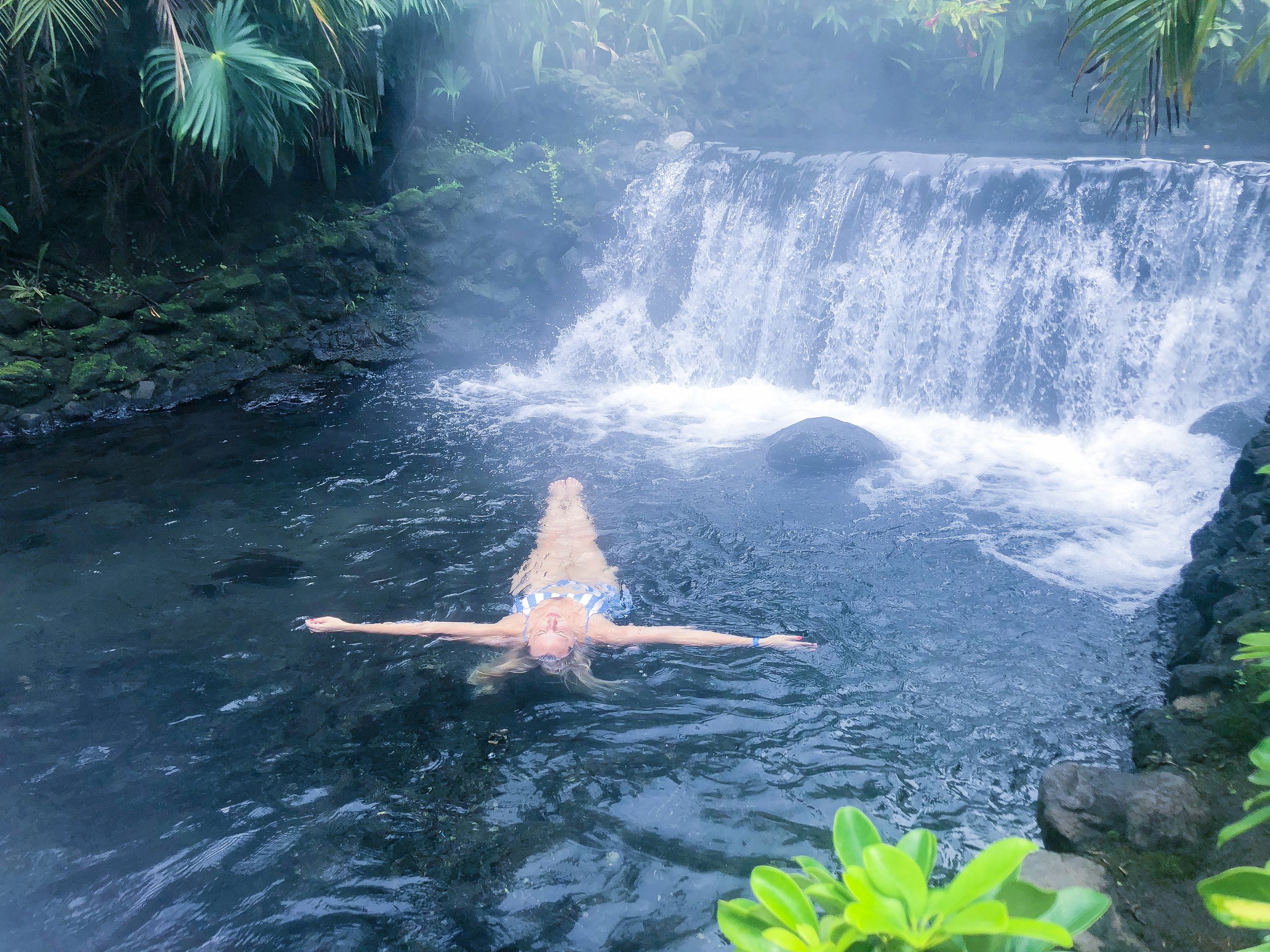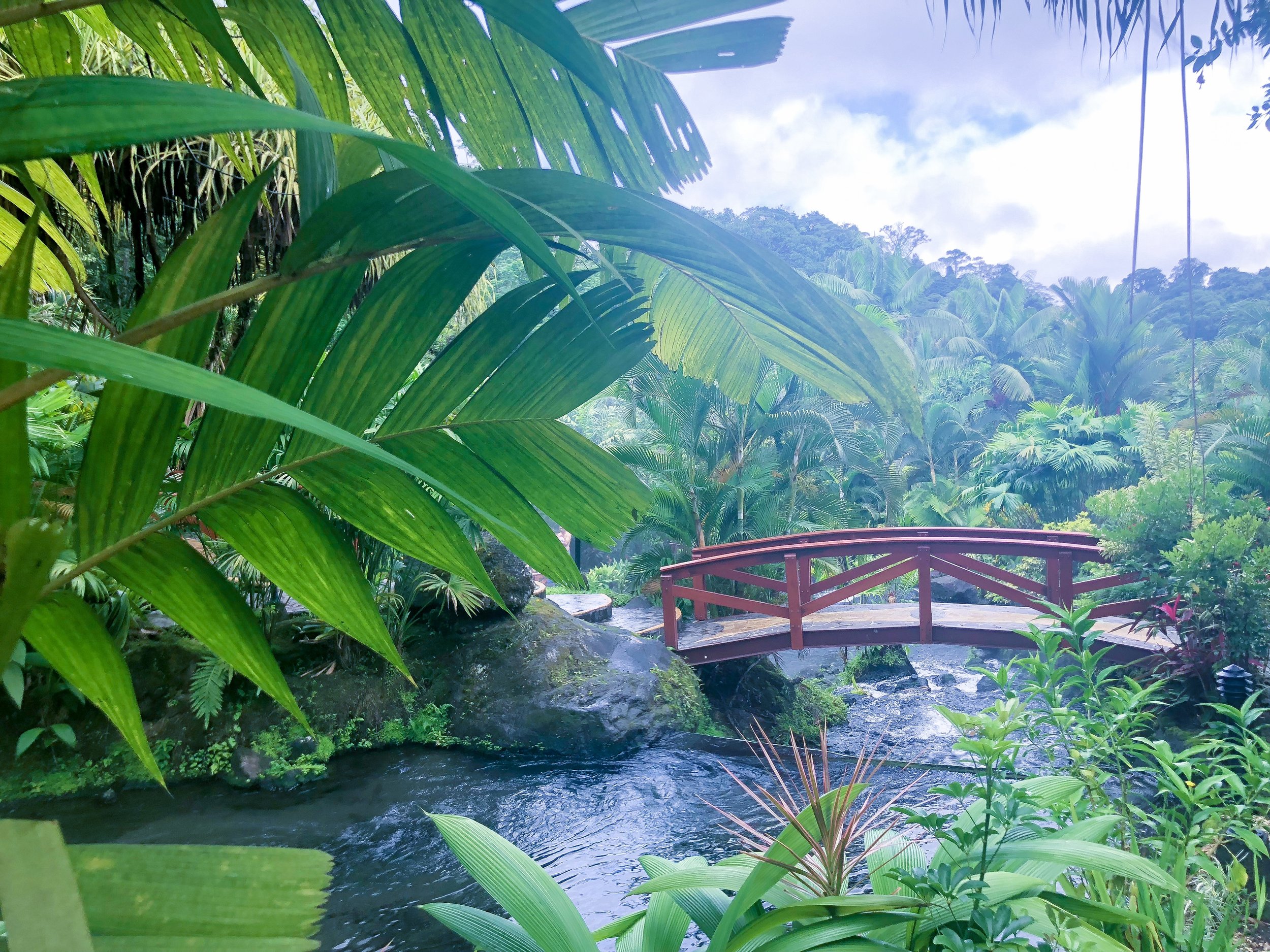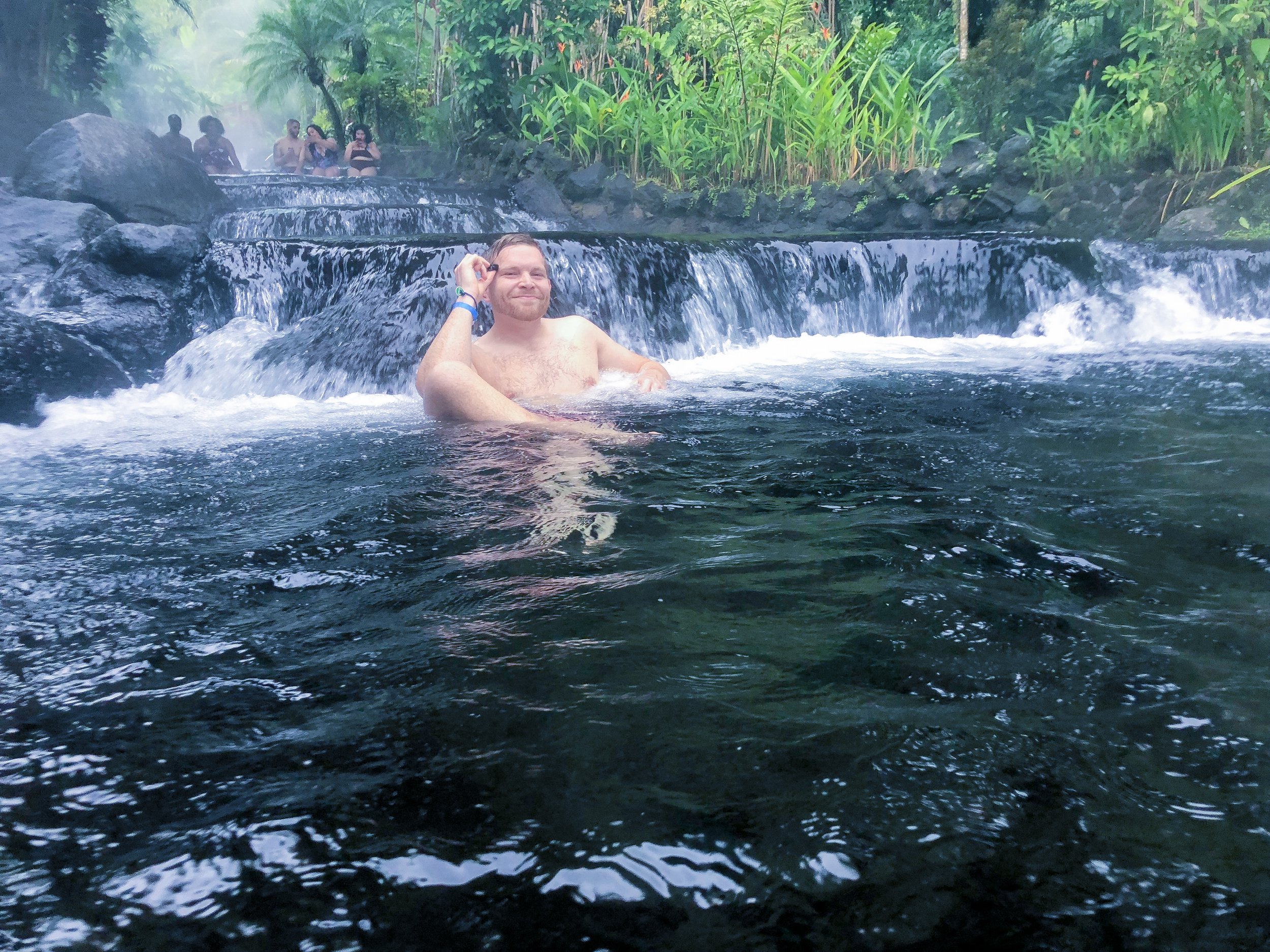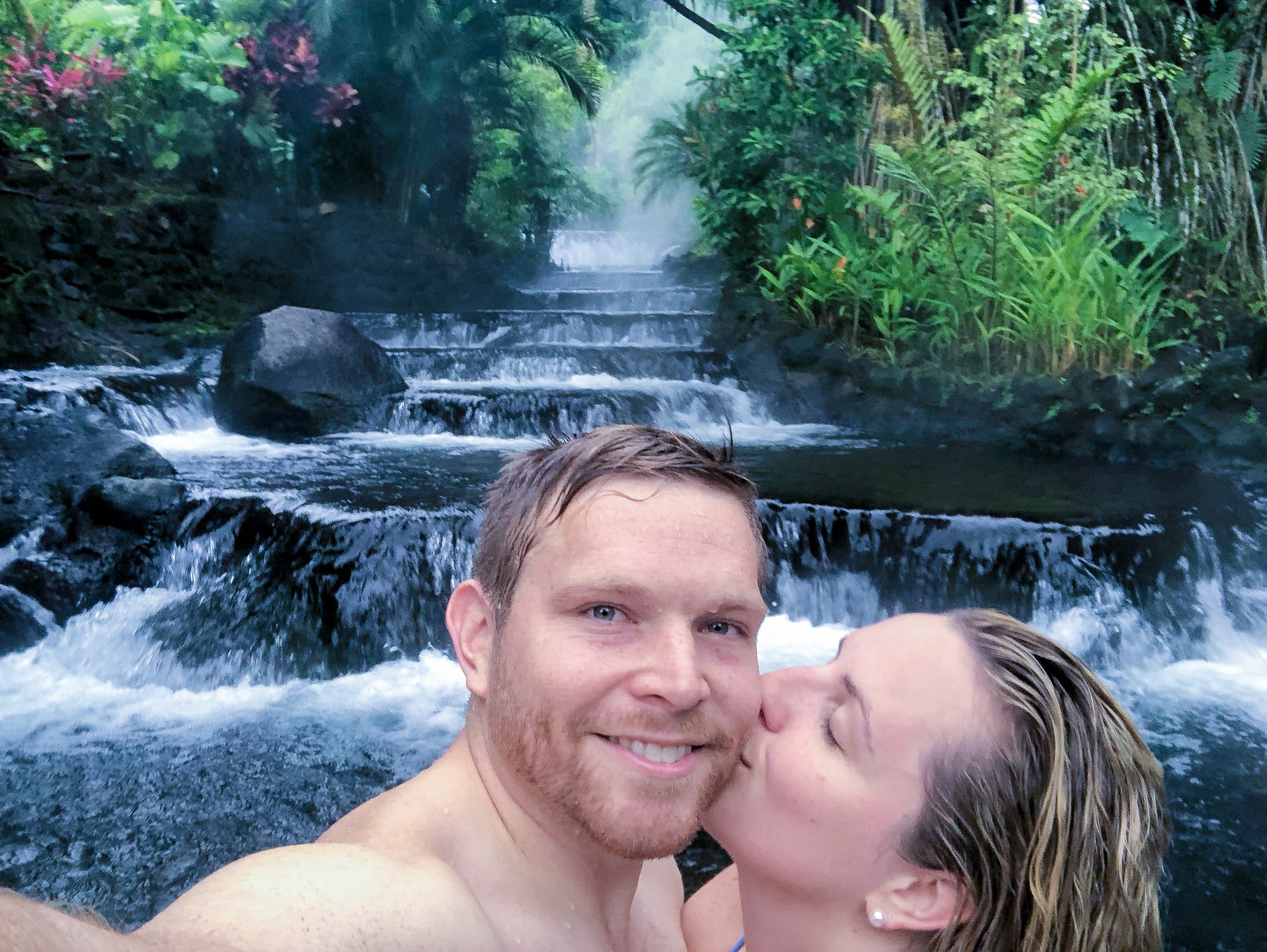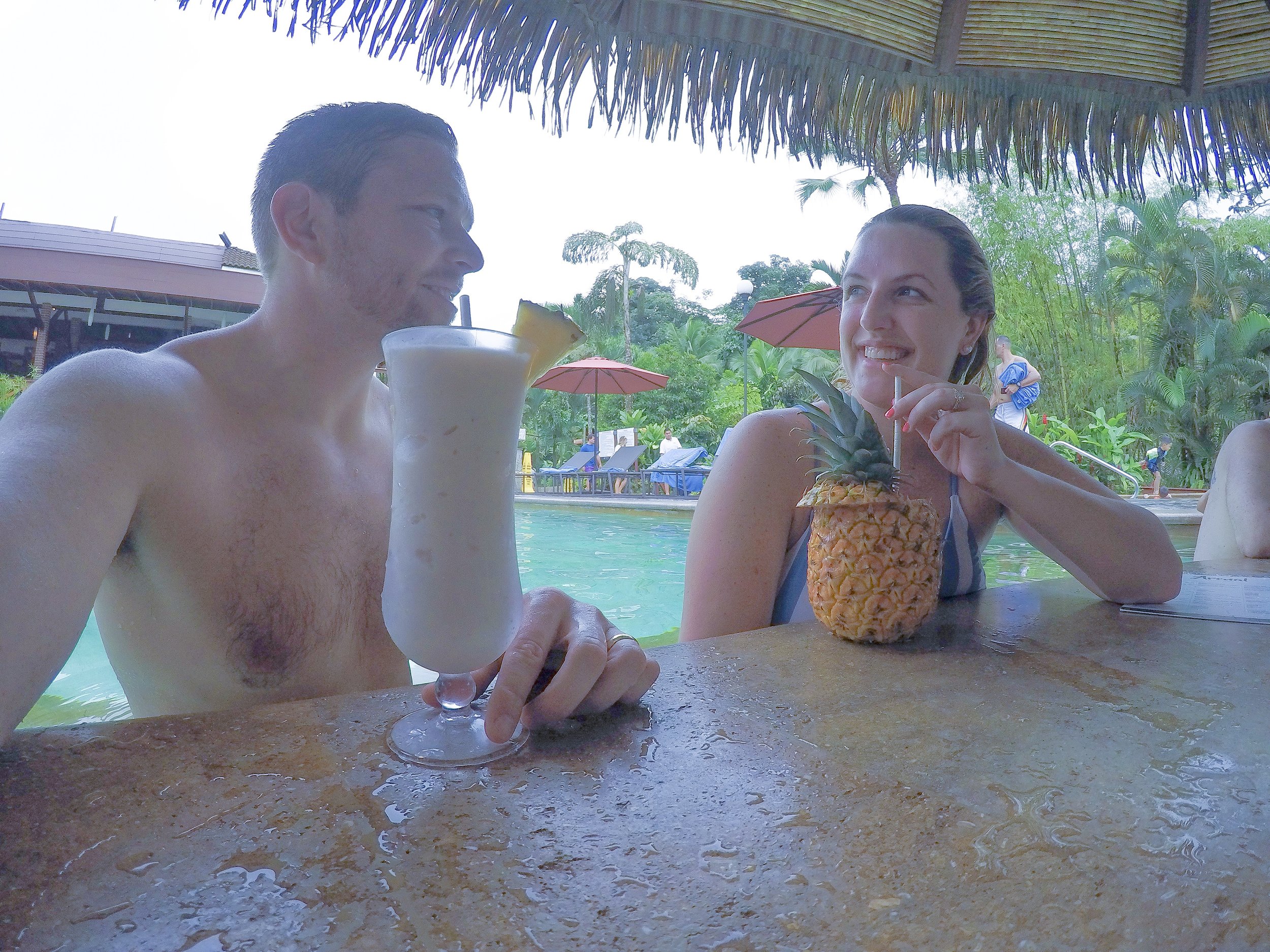 After lunch we sipped cocktails at the swim-up bar and relaxed a bit more. It was truly a perfect afternoon!
We then showered off and hopped in the car to drive out west to the coastline to end our evening checking into our Airbnb in Coco Beach. During our drive, we were completely blown away by the landscape, the homes, the livestock and the crazy steep and narrow roads. The drive was so much fun to us and looking back, it was probably one of our favorite parts of the trip. TIP: splurgeeee for the GPS the rental company offers!
We arrived to our Airbnb a little after 7pm and our host let us in through the security gate and greeted us out front of his home. Our room was a private mother-in-law suite attached to their home. As we were pulling up I looked at the pickup truck parked in the driveway and on the back of the window was an NC STATE sticker in the bright wolfpack red. Wait WHAT? North Carolina State University?! IN Costa Rica??? Wellllll, Roger, our host ACTUALLY lived in Raleigh for a while and attended the same college that I did! How insane is that?! His home was a absolutely breathtaking and their attention to detail made our trip so enjoyable. I can't say enough good things about them! We were very exhausted from our travels so we called it a night and tucked ourselves in early!
Day 3 | Excursion Day
Another early morning for us! Up at 5:30am, dressed and out the door! We grabbed a quick breakfast to go at Panaderia Tico's Bakery in Guanacaste and then waited at the tour stop right outside our neighborhood for our driver to scoop us up! We were their last pickup. We met up with about 20 people in total that we were paired with for the full adventure day. We signed up for an all-day Guachipelin Adventure Combo Tour through Native's Way Costa Rica. This tour included ziplining, horseback riding, river tubing, full buffet lunch, and finished at a natural hot spring with volcanic mud baths. The day was organized so well and it was really nice to not have to think or worry about where to drive to next and just sit back and enjoy ourselves!
Up first was ziplining and it was incredible! Ryan had a bit of initial fear but very quickly overcame it after the first zippp. I was so proud of him! It was such an adrenaline rush and it was combined with not only ziplining through the treetops, but also with rock climbing, swinging and repelling into canyons. This part of our adventure lasted maybe two hours. Next up was horseback riding. Ryan and I had actually never ridden a horse before [even though I've always wanted to!] and I think our first experience went very smoothly. We were joined by another group, making us about 40 in total. It was definitely nerve-racking at times. You could tell the horses were getting irritated and I couldn't calm my down because we didn't speak the same language lol We rode for about an hour and boy oh boy was my butt sore afterwards! You could definitely tell I was a rookie!
We then were bussed over to the Rio Negro to set up for our tubing adventure. The entire group were given single rafts and let loose on the river. We didn't know what to expect with the level of rapids but Ryan and I tried to stay together and hold hands when we could. This was by FAR my favorite part of the day! The river had a few slower parts but for the most part it was rapids. I never once felt scared for my safety but you definitely have to be paying attention the entire time. When going through the higher-level rapids, your tube was basically a pinball going down the river bouncing off every massive rock. Hands and feet were constantly being brought inside the safety of the raft and you always had to keep turning your head to see what was coming. And there was one point towards the end when it was almost over that it started sprinkling cold rain and it was so relaxing and such a surreal moment to just look around you and remind yourself that you were currently floating down a river in the middle of the Costa Rican rainforest! We also owe all the credit to our new GoPro Hero 5 for taking amazing pictures and videos and letting us relive the amazing adventure later on.
Last stop of the adventure we arrived to Hot Springs at Rincon de la Vieja National Park. We were given about an hour and a half to dip into the "hot tub like" hot springs and relax. Another amazing bonus was the natural mud created from the springs that was known for its minerals. People would take turns with paint brushes coating each other in the mud. You let it dry and then you take a dip in the [very cold] rushing river nearby. This hot spring was very different than the first and it was a great experience to see two different springs polar opposite from one another. After our day wrapped up, we were completely exhausted, and despite every other person falling asleep on the bus, Ryan and I couldn't stop looking at all our photos and video memories from the day! It was an incredible adventure!
Back at our Airbnb in Coco Beach, we wanted to treat ourselves that night to a nice sit-down dinner. We pulled up a few options [thank HEAVENS for Tripadvisor], read over their reviews and chose Citron Restaurante in Coco. It was such a beautiful restaurant and the food was delicious!
Day 4 | Animal Sanctuary & Playa Hermosa
We planned today to be a more relaxing day by the beach but when our Airbnb host told us about an Eco Adventure Park and highly suggested we check out the Animal Sanctuary, we quickly switched around our plans! Our first stop was breakfast and oh my goodness do we HIGHLY recommend coming here, maybe even twice during your stay at Coco Beach!! Ticoffia's reviews were through the roof talking about the food and specialty coffee. It certainly did not disappoint! The few things on their food menu all sounded incredible and I ordered their Mananoro which was Artisan Toast with eggs, bacon and cheese and Ryan ordered the Typica. "Tica Breakfast" had gallopinto, eggs, and a plantain in a corn empanada! Then for the true breakfast staple….coffee!!! I ordered their iced coconut latte made with real coconut milk and topped with coconut shavings and Ryan ordered the Kalita coffee. We later learned from their demonstration that Kalita, a specialty type of coffee extraction process, is similar to drip coffee but it has a flat bottom which allows for even extraction instead of waiting for a singular drop each time. Ryan loved it and was in complete heaven, he's quite the coffee fanatic!
After having had the perfect morning, we made our way to Diamante Eco Adventure Park and purchased two tickets to the animal sanctuary. This sanctuary came highly recommended as the best place to see the most variety of native Costa Rican wildlife. We enjoyed our perusing and said hello to many cute and some not-so-cute creatures. We saw parrots, turtles, toucans (my FAVEEE), butterflies, crocodiles, foxes, marmosets, spider monkeys and even jaguars! We also sipped on a few adult refreshments while watching the sloths enjoy their afternoon snack! It was the perfect morning activity and I couldn't have felt accomplished visiting Costa Rica without seeing true jungle animals!
At this point we were famished and needed lunch! We decided upon Playa Hermosa, which was a beach right next to ours by about 15 minutes! We sat outside on a covered patio right on the beach at La Casita del Marisco and enjoyed a delicious seafood lunch and again, a few more adult beverages! We wanted to order seafood anytime we were at a seafood town. During lunch we were respectfully approached by a merchant trying to sell his local goods. Usually I don't appreciate when people come up to us just trying to sell things BUT this time, the gentleman was offering the most gorgeous wooden bowls. We ended up purchasing a large and small [perfect for chips and dip] and they were made out of two different types of wood. The small bowl was made out of Rosewood and the large bowl was made out of Guanacaste wood [Costa Rica's native tree] and both had the most incredible grains and details. I'm typically not a "chachki" type of girl where I bring back a bunch of cheap keychains and such. I love souvenirs that tell a story and that I can use often when at home, these were perfect!
After lunch we lounged on the beach, and I definitely took a cat nap! We swam in the water, which was surprisingly very clear and then we explored the volcanic rocks along the coastline. I'm such a fish at heart and I love anything to do with sea life so seeing all the creatures and fish in the little reservoirs of water was a lot of fun! After the beach, we went back to our Airbnb and got ready for dinner.
We ate at a very casual outdoor covered restaurant called Zi Lounge. If you are looking for very authentic food, this may not be your first pick but it was a great atmosphere outside with live music and a really big variety of menu options. Late night it turns into a bar / lounge with dancing and music. We finished up dinner and scooted out before the night crowd moved in and we went and explored the local casino, El Coco Casino. We're super random and we love to occasionally gamble. We always set a limit for ourselves and this time it was just $60 U.S. dollars each. Ryan went straight to the black jack table and after cheering him on for a bit, I found my way over to the electronic roulette table. This was my first time playing electronic roulette and it probably would've been fine but the entire table's buttons were in Spanish and each time I pressed a button, I was completely guessing as to what it meant. So needless to say, I quickly lost my $60 and we retired to our room early that evening.
Day 5 | Cloud Forest & San Jose Food & Wine Sunset Walking Tour
Our last full day began with a lot of driving again! We really wanted to make use of our short amount of time in Costa Rica and one thing we noticed is that most things are very spread out in the country, making travel a must if you want to see multiple areas! From our Airbnb in Coco Beach, which was on the North West coastline, we made our way down the coast to Monteverde, otherwise known as the "Cloud Forest". It took us about 3 hours driving so we made sure to leave bright and early! All our morning drives were actually very easy. Not too many cars on the road and the weather was usually very enjoyable. THIS drive, however, was one of the craziest drives we've ever EVER made! The terrain and turns and quality of the roads were unlike we've ever experienced before. No wonder all my research ahead of time insisted on getting a vehicle with 4-wheel drive, you NEED it! This was by far the most beautiful drive we made through our trip. You would be driving on a cliff, look over to your right and see the ocean and to the left see valleys and mountains and volcanoes. It was absolutely incredible!
I still can't get over these views! We pulled our car over and hopped out to capture these
Once we reached our destination of Sky Adventures Monteverde Park, the climate had drastically changed to full rain, freezing cold and extremely foggy. We checked in for our combination of Sky Trek and Sky Tram adventure. We were paired with about 6 other people for the 2-hour Sky Trek walk throughout the cloud forest which took you over the famous hanging bridges. It is a very easy walk and at no point was it strenuous in any way. We geared up in full rain coats, athletic gear and waterproof backpacks and phone cases. We learned about wildlife and lots of plants, both dangerous and edible! Then our fear of heights and suspended swinging bridges were tested when passing over the suspended metal bridges. I thought it would be scarier but they are incredibly secured and really only sway badly if you have others in your group that don't listen and walk too quickly…which of course we did!
After our trek we were already exhausted but mostly because we were soaking wet and cold. Oh, did I mention, we decided to visit Costa Rica during its rainy season?! Haha oh well! After our trek, we were then slotted for our Tram ride. In our heads we thought the tram was going to be enclosed and it would be a nice relaxing ride up to the treetops…. definitely not. It was completely exposed and it was freeeezing with extremely long winds. Ryan and I sat there completely huddled up in balls trying to keep from hysterically laughing at the pure ridiculousness and failure of the ride. It. Was. Miserable! At the top they have a small outdoor café and sell refreshments and snacks. We purchased a few alcoholic hot coffees which we could barely finish. As we were making our way back down the mountain we were counting the seconds until we were back in our warm dry car, oh what an adventure!
Another 3 hour drive ahead of us down the mountain and on to San Jose, the capital for our final night in Costa Rica. We arrive at the Residence Inn San Jose, which is positioned right in the heart of San Jose's silicon valley. Surrounding the hotel is an abundance of high-end restaurants, designer stores, starbucks and so many other conveniences. This hotel also has full kitchens as well and was just absolutely beautiful inside, I would highly recommend!! After checking in, we quickly got dressed for our final evening in Costa Rica
We drove into downtown toward the Mercado Central to meet our tour guide with Urban Adventures for an evening walking tour of the city with dinner and wine included! Our tour guide was so knowledgeable and spoke perfect English. We got a personalized and intimate group experience of seeing the market, the historical buildings downtown and all the parks and anything random we may have pointed out. Our walking tour ended at the amazingly delicious Restaurante Silvestre where we had a private room for our group and a three-course meal waiting for us! The attention to detail for each plate presentation and the execution of each dish made for a perfectly enjoyable evening. Our courses were also paired with house recommended favorites to complement the incredible chef's dinner! It was a perfect evening and I highly recommend this tour company for showing us around San Jose and making for a great experience! We chose to head back to the hotel for a good night's sleep and prepare for an early rise.
Day 6 | Travel Day - Departure from San Jose, Costa Rica
Ryan drove me to Juan Santamaria International Airport (SJO) where we kissed goodbye and I hopped on a flight back to Raleigh, North Carolina. I traveled the same path as I took to get to Costa Rica, only this time, I wasn't spoiled at all on each flight. It was such an amazing trip and while in the Costa Rican airport waiting for my first flight to start boarding, I loaded up on Costa Rican chocolate covered fruits and coffee beans and specialty coffee liquors. My bags were wayyy too heavy, per usual but it was so worth it! What a whirlwind of a trip. I felt like it flew by in the blink of an eye but was felt so lucky we got to see and experience so many things in such a short period of time! On to the next adventure!